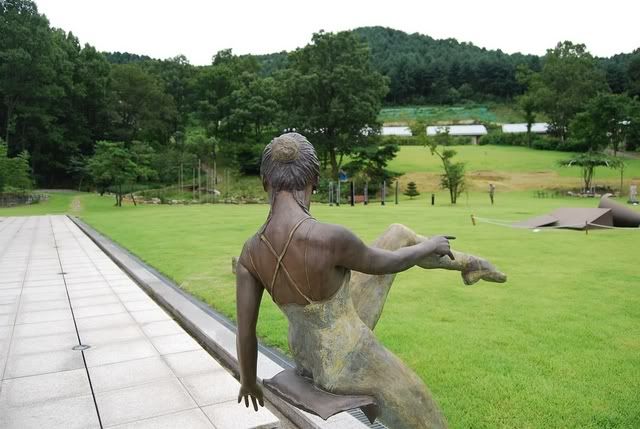 Let your imagination run wild. Bright red boots. Marilyn Monroe prints. Comic strip characters. A gigantic mobile and puzzle pieces, all like candy for the eye. The art may be laughable, but you'll walk away deep in thought.
Check out "Pop & Con Mix," running until Sept. 22nd. The exhibit is a colorful commentary on mass media, reflecting art and culture in a fresh way. Step into your television box and encounter the familiar in an unfamiliar context.
Pop culture icons are presented in a new light to expand one's understanding of advertising and popular art. The museum in Kwangju city is currently displaying the work of 12 artists, in a range of mediums including sculpture, print work and painting.
Though accessible by subway and bus, the modern gallery is perched on a grassy field, surrounded by mountains. The two buildings consist of a gallery displaying contemporary art, and a resident-in studio. There, art lovers can watch the artist at work.
Admittance is 2,500 W for adults, 1,500 W for students/children, and a discounted price for groups. Opening hours: Tuesday through Sunday, 10AM – 6PM (entrance before one hour). Closed on Monday. The museum is located in Ssangryung-dong, Kwangju-city. Take bus No. 1113-1 from Gangbyeon subway station, or bus No. 1117-1 from Jamsil Station. Get off at Gwangju Chuk Hyup and walk 15 minutes. Call (031) 761-0137, or visit the website, www.youngeunmuseum.org for further details.