I often write event listings for Visitseoul.net. Why not share with you? Here are my write-ups for October in Seoul:
THEATER
The Donkey show is a hoot! It is a disco version of a Midsummer Night's Dream, in Korean. It is being staged in the round at a theater in North Seoul , garnering attention as a musical with a twist. The feeling is that of being in a club. Audience participation is highly encouraged. Dance, sing and act along! Grab some friends and head out for a night at the theater you won't soon forget. Admission is 40000W. To inquire, call 02-3443-6487 or visit http://www.donkeyshow.co.kr/ The theater can be reached via Hyewha Subway Station, line 4, exit 2.

The Batsheva Dance Company is back again, this time with 'Deca Dance,' the impeccably choreographed routine often described as, "daring and provocative," and, "Three," an exciting addition to the show. Seoulites were impressed by the company when they performed here in 2002. Batsheva is now in its 40th year of production, and the contemporary dance troop continues to tantalize audiences worldwide.
Admission is W 30000, W 50000 and W 70000.
For more information call 02-2005-0114 or visit http://www.lgart.com/
LG Arts Center is accessible from Yeoksam Station, line 2, exit 7.

The LG Arts Center is thrilled to present, Twelfth Night, a Shakespearean classic directed by the influential Declan Donnellan. His Moscow theater company is staging the work in Russian with Korean subtitles. The window is small, so book tickets now. It only runs from October 31st until November 3rd, and is bound to be popular.
Tickets range from W 30000 to W 60000 for
For information, visit lgart.com or call 02-2005-0114. LG Arts Center is accessible from Yeoksam Station, line 2, exit 7.

'Burn the Floor 2' is the sequel to, 'Burn the Floor,' an explosively popular dance show staged at the Olympic Hall, Seoul , in 2006. The production was inspired by Sir Elton John's opulent birthday party at the Hammersmith Ballroom in 1997, and is raw with energy, showcasing a pallet of dance like waltz, chacha, salsa and tango. It is a full on visual spectacle, boasts champion dancers, and will set your pulse racing.
Admission W 40000 to W 80000, VIP W 100000 and W 150000.
For more information call 02-548-4480 or visit www.seoularts.com
The performance is staged at the Sejong Center, which can be accessed by taking the subway to Gwanghwamun Station, line 1, exit 1 or 8.
ART EXHIBITIONS

DoART Seoul presents Channel 1, a new multimedia exhibit at the single-channel, high-tech multimedia artwork company now located in the affluent Apgujeong area, near Rodeo Drive . The art is a legacy for the legendary Nam-june Paik. Artists showcasing their works include Susie J. Lee, Lee Jin-june, Shin Gi-un, Park June-beom, So-yoon and Ryu Ho-yeol. For further details, visit http://www.doart.co.kr/ or call 02-738-2522.
The gallery is located across the street from Cheongdam High School.

"Nostalgia kills." "Sweet side." "Half bucket of blood." These are the names of some of the pieces Todd Norsten is showcasing at Arario Seoul gallery, until October 7th. His art is simplistic and childlike, humorous with an edgy undertone. The solo exhibition displays imaginative works, "with a drawing-like hand." Red and black paint drip smiles and eyes on the white of the canvas. Anguk Station, line 3, exit 1. For information about the event call 02-7236190 or visit http://www.ararioseoul.com/

TRADITIONAL KOREAN EVENTS
Have you ever wondered what a Joseon-era wedding was like? Twice a year, at Unhyeongung Palace , the Seoul Metropolitan Government hosts a re-enactment of King Gojong and Queen Min's wedding. The ceremony is historically accurate, arranged in accordance with the research department at the palace. The King and Queen were married on March 21st, 1866, at the age of fourteen. The event is an opportunity to experience the majesty and grace of Korean royal culture.
For more information on this historical event please call the palace direct at 02-766-9090.
The palace is on line 3, Anguk Station, exit 4.

SPECIAL EVENTS

Armin Van Buuren, The 3rd best DJ worldwide, as selected by the DJ list magazine, is gracing Seoul with his presence this weekend! The Kayagum Hall, Sheraton Grande Walkerhill Hotel will no doubt be filled to capacity on Saturday, October 6th, 11pm - 6am. Favorites of international clubbers like 'The Sound of Goodbye,' 'Eternity' and 'Shivers' will bring the house down. The world class DJ is elusive, so book your tickets in advance if you want to feel the vibrations this Saturday.
Admission is W 50000 and clubbers should contact http://www.o2pro.com/ for purchasing. Barring a prior sell out, tickets will be available at the door.
To access the venue, take line 5 to Gwangnaru, exit 2. You will need to take a direct shuttle bus or taxi upon exiting, as the hall is 2km from the station.

+++
Hi, Tae Hun.
"Stylish" photo houses are popular in Japan, so Hiroko and I checked one out in Gangnam. It was 5,000 W for a sheet of photos - much more expensive than it is in sushi land. She said in Japan, friends write things on the photos like "shopping, boat ride, movies," as a reminder of the night.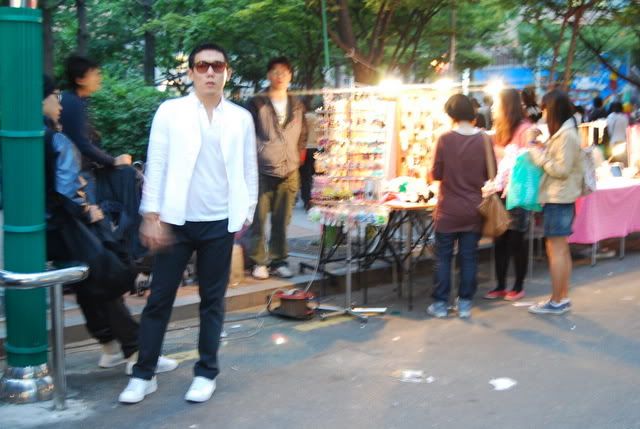 This guy had been waiting his whole life to be photographed. As soon as I put my camera up to my face, he struck a killer pose... and held it.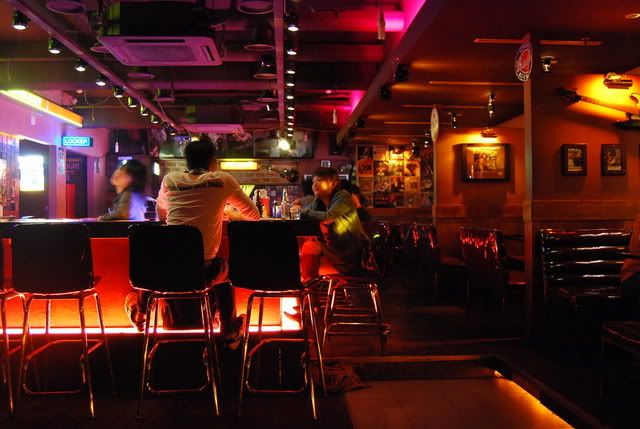 Tae Hun and Hiroko talking about Japanese animation. Is there Japanese animation directed by Woody Allen? No? I don't know then.
In Korea privacy and quietude are embraced. I poked my head in the door of Tin Pan (Hongdae) and said, "oh, it's dead," just as Min piped, "great, we have the bar to ourselves!" Norebang and DVD bangs? Privacy. So there we were, the 4 of us, alone with our small talk and whisky.
We ate sausage, sweet potatoes, noodles, egg, peaches, rice and cabbage salad with our beer, at a Korean-style bar before Tin Pan. Could the selection get any more random?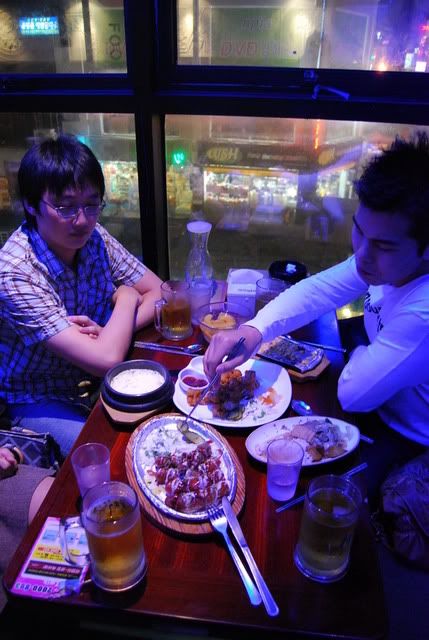 On the bus ride home, Tae Hun and I drew each others portraits without looking at the paper. I laughed so hard when I saw my drawing of him.