I'm on my way to Seoul (late Sunday!!) but here are some photos, in the meantime:

After going out Saturday afternoon, Tae Hun and I found ourselves at the restaurant where we were first introduced. Skimming the menu he asked, have you ever had 닭갈비Dakgalbi (spicy stirfried chicken), and I said yes. Then it hit us. We had been there before.
Our nostalgic food was cooked on a metal plate, over charcoal, in the centre of the table. The waitor stirring our food was nice and jovial. If somebody has to hover over you as you eat, you may as well like them, right!?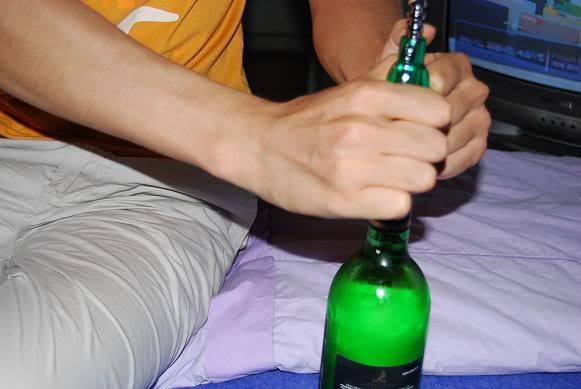 The chicken (7USD ea.) was sizzling hot, tossed with white cabbage, onions and rice cakes (log form) . We ordered our DAKGALBI + cheese "hot" (although my taste buds argued it was medium-spicy). People always underestimate the white girl's tollerance for heat.
The cheese was a yummy addition, but I prefer it without. By the way, I tried cheese 김밥 (kimbap) today as an alternative to chamchi kimbap and it was good, processed cheese and all. It's 2USD at most Kimbap Heaven restaurants.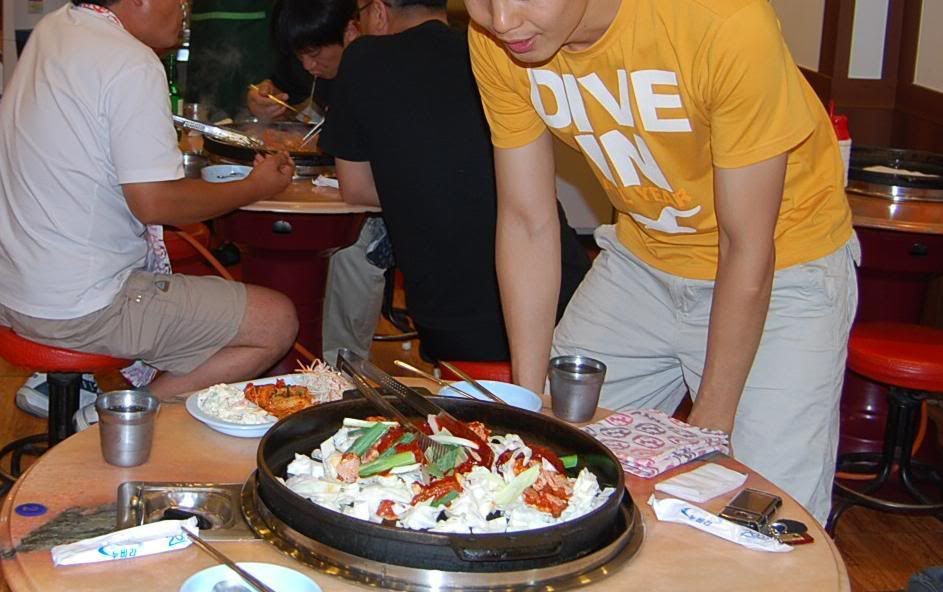 The men in my adult class gave me a warning. They said I should buy "expensive" kimbap because the cheap stuff includes low grade, dirty rice imported from China. They also told me to choose carefully the restaurants from which I get 자장면 (Jajangmyeon) because, "it is black for a reason." They have found hairs, flies and other delights in the dish. They totally ruined my 'Black Day' food for me. It's like those people who warn you that everything causes cancer. Don't chew gum with Aspartame! Don't leave open cans of food in your fridge for more than a day! Don't bake in the sun until you look like beef jerkey and have skin cancer. Ok- I agree with the last one.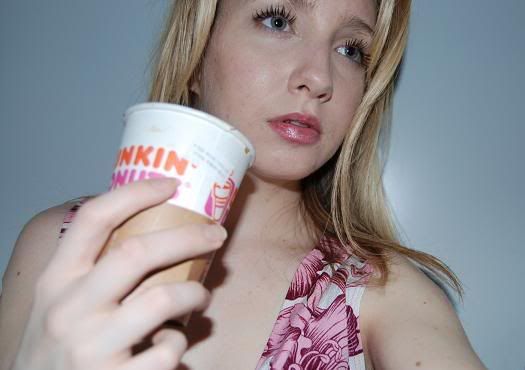 Above: My dramatic love-hate relationship with Dunkin Donuts. Yes, you are warm and sweet, Dunkin Original, you give me a jolt during my 6 day workweek, but you burn a hole in my wallet. 2USD for a regular coffee? I'm addicted, you're cruel.
Any other foreigners have secret Dunkin Donuts addictions?