My Korean American friend Calvin sent me this link: http://www.safetygearhq.com/ If you're at all concerned about your safety, buy a self defense device.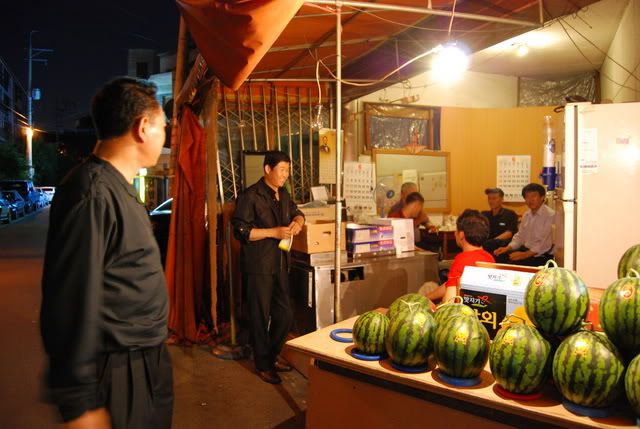 When this man offered me a free banana, he did it in a crude way and gave his card playing, chain smoking buddies one of "those" looks.
A reader's response to the 'Weirdest Encounters' post. She asked to remain nameless:

"I wrote to you a while back to tell you how much I love your blog. I recently saw it again, and I'm sorry to hear about your gross experiences with some Korean men. Unfortunately, many older men seem to think anything is okay. I've had some bad experiences too (one of the standouts being a masturbating taxi driver).

The worst happened just last week: while on my way to work, a guy punched me out of the blue, then threw a glass bottle at my face; if I hadn't ducked, my face would have been cut. Fortunately, I got out of it with a cut on my head. The crazy thing is, they say he probably won't get jail time, even though he's done this before. After the hearing, it's plain to me he's a woman hater who will do this again. And it's crazy that a Canadian English teacher just got six months for forging a college degree! A little unbalanced in terms of justice....

Anyway, I felt compelled to write after reading your stories...I'm so happy that you're not letting those experiences affect your time in Korea. But also, as I'm sure many people have already told you: be careful! And unfortunately Korean men, especially those with liquor in them, are not known for being demure and charming."