A review I wrote for VISITSEOUL.NET:
Flash Cube is the current exhibition at Leeum Samsung Museum of Art, conveniently located in the heart of Itaewon: Western town. The exhibit includes works of over 20 photographers hailing from around the globe.

The repository of arts and culture is a uniting force of Korean and foreign art. Located on the hillside of Namsan mountain, Leeum was designed by world renowned architects, to accommodate the evolution of fine art. The gallery feels tucked away, like a lesser known jewel of Seoul city.

English docents are available Sat & Sun at 3PM, so you can get a better understanding of the exhibition suitable for theorists, photographers, and the public alike. The 90 minute weekend tour covers Leeum museums 1 & 2, which respectively showcase traditional and contemporary art.

Flash Cube engages in an open-ended exploration of space, environment and architectonic constellations. The International photos are displayed in ways that compliment the themes: Fluid Inner Space, Open Urban Space and Installative Space. A common string is photography's power to create a perceived reality.

'Fluid Inner Space' focuses on interiors, showing works by Candida Hofer, Lee Yoon-jean, Mieke Van de Voort and Klaas Hoek, as well as Hiroshi Sugimoto and David Claerbout. Gerard Byrne's series provides a window into what was once the photographic space of creation: the darkroom.

Photographers David Claerbout and Hiroshi Sugimoto evoke the experience of time by slowly emerging images, like those of a drive in movie theatre. In another series, called "U Become Snow," large snowflakes fall from an upper vantage point, and you feel you are falling with them.

I was struck by German photographer, Andreas Gursky's Paris, Montparnasse. It's a facinating look into hundreds of windows in a multistory, unusually oblong building. At first glance, the structure appears to be lifeless, but upon closer inspection, the observer is privy to human activity, furniture, people doing laundry and going about their day.

The photo is full of character and wit, but is equally uncanny in its representation of space and nonidentity. Gursky plays with photography's perspectivitst capacities, presenting what seems to be an alternate reality.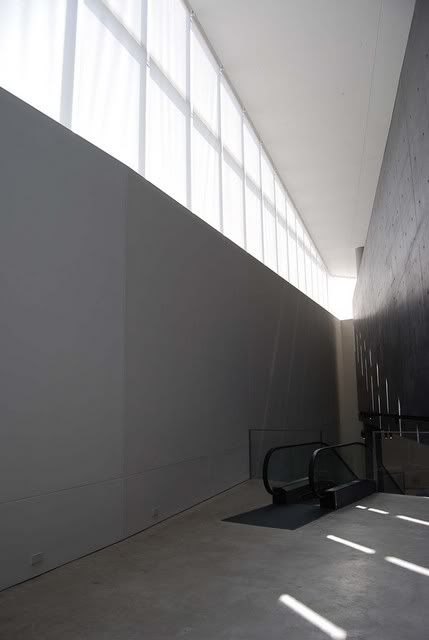 Visit the posh Leeum Samsung Museum of Art, a real treat for art and architecture enthusiasts!
The Flash Cube exhibition runs through Sept. 30 at the museum, located near Exit 1, Hangangjin Station, Subway Line No. 6. www. leeum.org for more details.