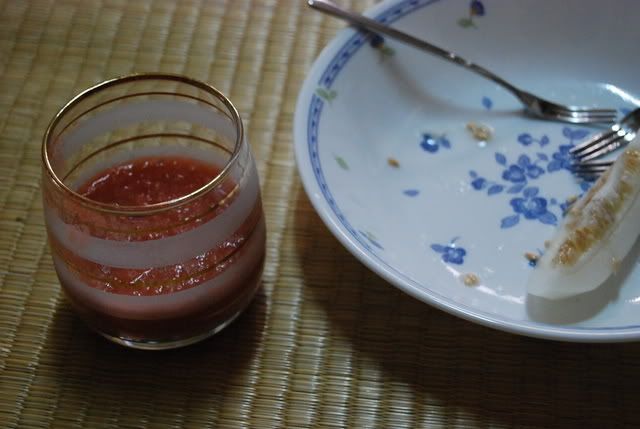 Before we hit the road, Mother Tae Hun serves us a refreshment: melon slices and juice made with tomatoes picked from her garden that morning. Hello spoiled? No wonder he doesn't want to move out.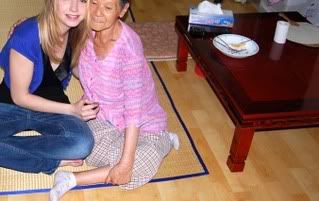 I'm hunched over with Tae's paternal Grandma who lives in their house. She talks and talks to me but I understand little. He translated one thing: "You are like another grandchild."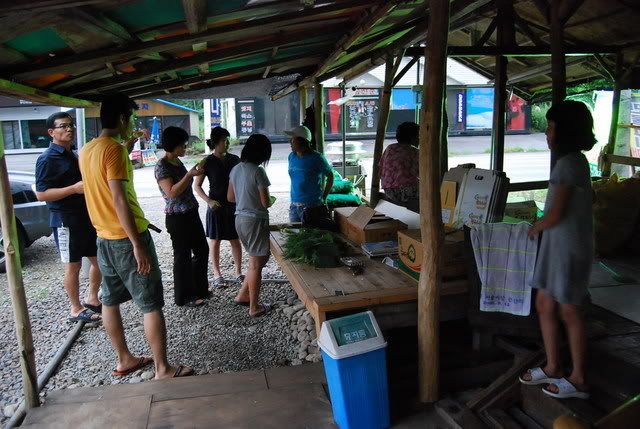 2 hours of driving later, a pit stop. Tae Hun's cousin's house in Gangwon Province. They sell corn in front of their house (4 ears for samcheon won - 3USD.) Corn in Korea tastes like European corn fed to cows, hard and tasteless. But it's well loved by Koreans.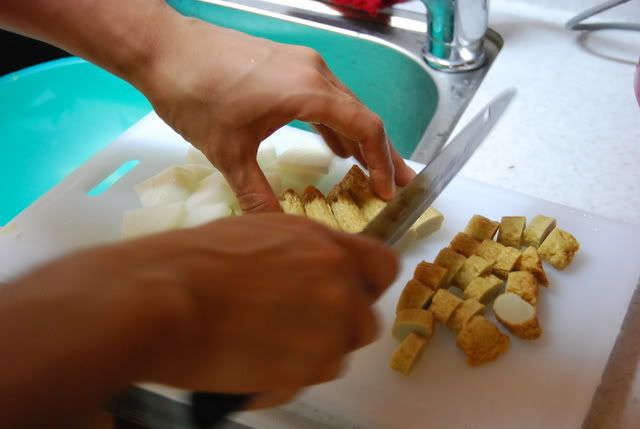 At the villa. Tae Hun cuts up onions and oddang (fish dough) for dokbokkie. That was our dish to tackle, to eat as "desert" after the samgyeopsal: grilled pig stomach, served outside by his father.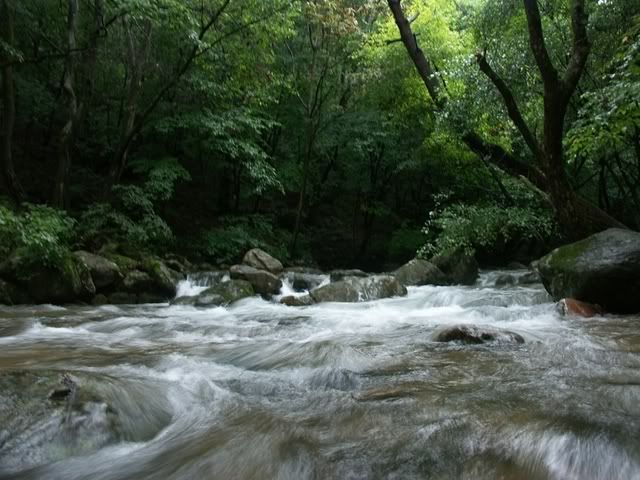 A stream in front of the villa (below) where we stayed. Tae Hun's 80-something year old Grandmother owns it, along with part of a nearby mountain. She's a strong woman. We helped her pick corn, red peppers, mow the grass and clean, but she usually does it all by herself.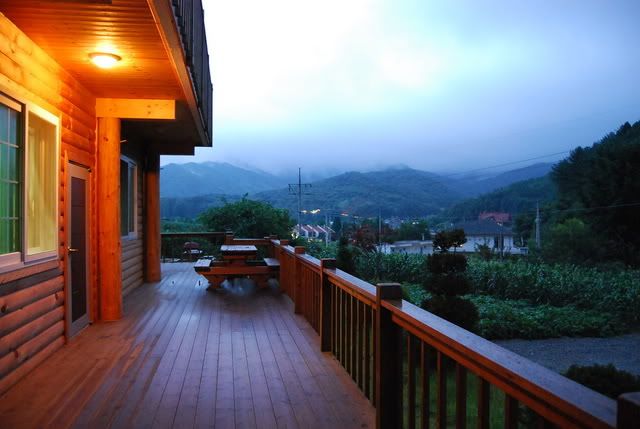 At a nearby Buddhist temple. People make wishes on slates. To the right was a tree so large 10 men can't span the width of it with their arms: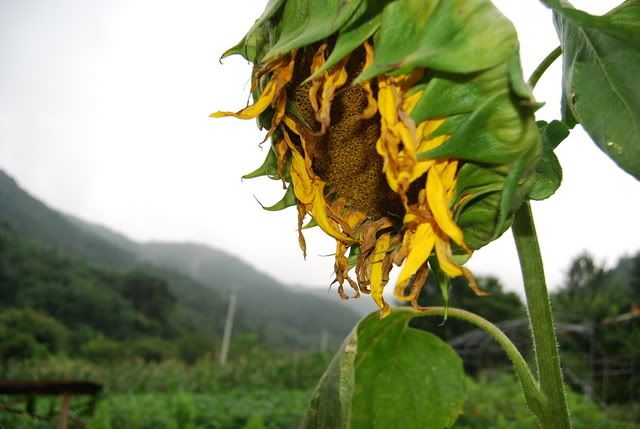 I'm surprised I didn't capture any ladybugs in this flower photo, because the land was swarming with them.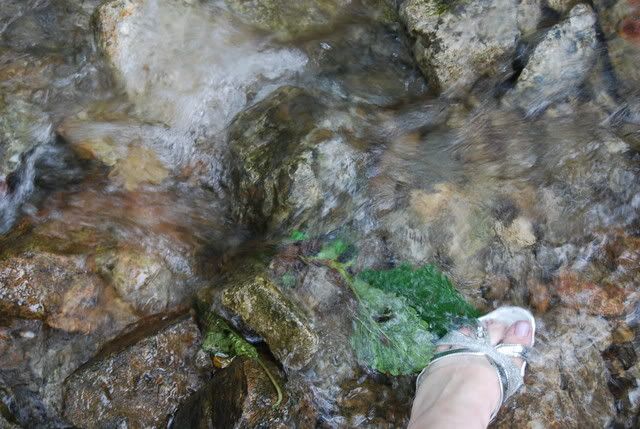 A sole fell off my sneaker so I had an excuse to wear my impractical princess slippers.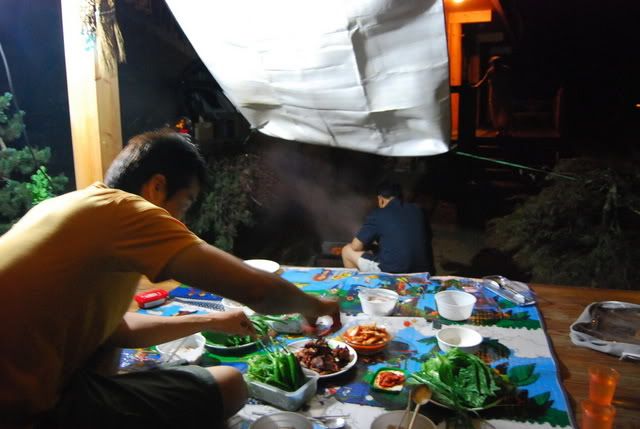 Tae's father cooks the pig belly. His Grandmother walks towards us on the porch. I am kneeling, waiting for everyone. Light rain cuts the humidity.
Roll up grilled pieces of pork with red pepper paste and kimchi. Delicious.
I say he's posing but he swears he didn't know I had my camera out. He's apparently turning over rocks in search of small fish.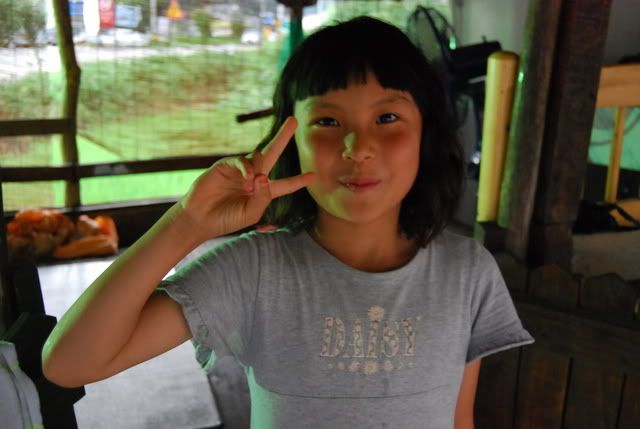 The little cousin we babysat. Everytime we went somewhere she insisted on holding one of his hands, and one of mine. We swung her up into the air.
She never stopped talking, and her (apt) nickname at school is, "Little Fox." She and I went for a walk alone at one point. I stopped to put a flower behind her ear and one behind mine, but she threw them back into the grass. Why? Wearing a flower behind your ear in Korea means you're crazy.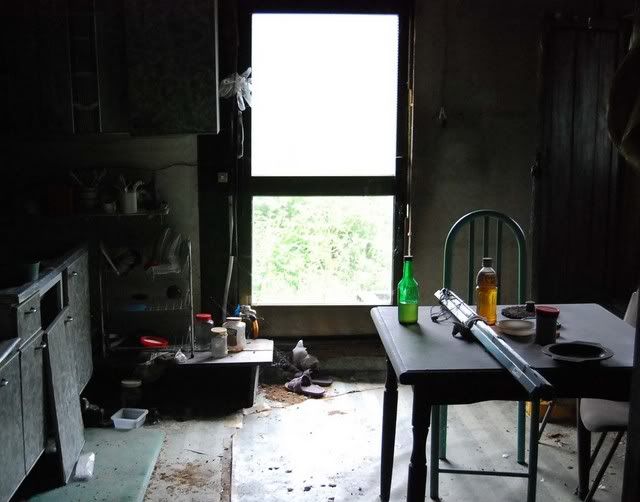 This museum of a house is on the villa's property. It's Tae Hun's Mother's childhood home. Nobody had entered it for years, but I insisted so I could take photos. I bet Tae's Grandfather's ghost was there; he built it.